Instrumentation/Electronics
Our comprehensive range of weighing instrumentation offers you a quality assured, cost effective and purpose designed solution to a diverse range of industrial and process weighing applications.
You can be assured of rugged build quality, reliability, high performance, fast setup and ease of use. A range of add-on options provide extra versatility and flexibility to the essential building blocks, leading to a modular and future-proof solution.
Several options are available:
Junction Boxes for 4 or 8 load cells in ABS, Aluminium or Stainless Steel (optionally with ATEX approval)
Intelligent Junction Box for individual monitoring of load cell performance and error checking of up to 4 load cells
Simple weighing transmitters (with analogue output for connection to a PLC) or high speed transmitters with built-in weight indication, external communications, set points and dedicated check weigher functions
Purpose designed weight indicators with external communications, ATEX approval for use in hazardous areas and IP69K protection for use in harsh, wash-down environments
Dedicated weighing controllers for batching, filling, check weighing, truck weighing and axle weighing, with communications and relay outputs
Instrumentation/electronics with Weights and Measures approvals (legal-for-trade): OIML R76 and EN45501:2015 (NAWI)
Remote displays for secondary weight indication at a different location
Load cell tester with intelligent diagnostics
Load cell simulator
Communication protocols available:
Analogue outputs (0-20mA, 4-20mA, 0-5V, 0-10V, +/- 5V, +/- 10V)
RS232/485
MODBUS (RTU and ASCII)
EtherNet/IPTM
Profibus® DP
PROFINET
DeviceNETTM
Wireless Telemetry and Bluetooth (on request)

All of Thames Side Sensors' junction boxes manufactured since July 2014 are RoHS 2 compliant.
To create a complete weighing system, Thames Side Sensors India also offers an extensive range of load cells and complete weighing assemblies; this ensures that optimum performance is achieved in all weighing applications.
Contact Us for more information.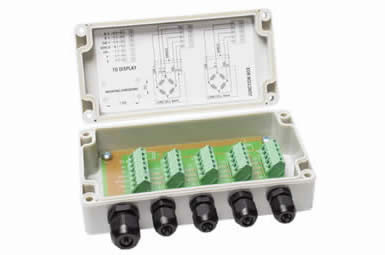 Junction Boxes
4 or 8 load cell versions, IP66
ABS, Aluminium, Stainless Steel
Trimming potentiometer options
ATEX approved options
Options with built-in lightning surge arrestors
Digital load cell options
Intelligent Junction Box for continuous load cell signal monitoring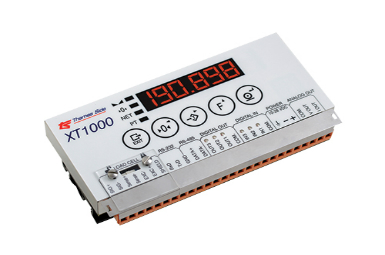 Amplifiers and Transmitters
With or without a digital display
Analogue outputs and relay set points
OIML R76, EN 45501 (NAWI), CE approvals
Model approval from Legal Metrology Department, Government of India
Option of PROFIBUS, PROFINET, DeviceNET, MODBUS, RS232, RS485, EtherNet/IP interfaces
Models with built-in check weigher function
DIN/Omega rail or Panel mount
Weight Indicators
Bright LED digital displays
Analogue output options for connection to a PLC
RS232, RS485, MODBUS
ATEX Approved
OIML R76, EN 45501, CE approved
Model approval from Legal Metrology Department, Government of India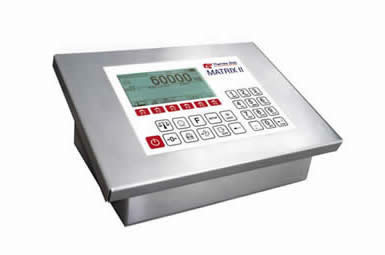 Weight Controllers
ABS or stainless steel construction
OIML R76, EN 45501, CE approved
Model approval from Legal Metrology Department, Government of India
Multi-range capability
Application-specific firmware available
Analogue outputs, RS232, RS485
Multi-lingual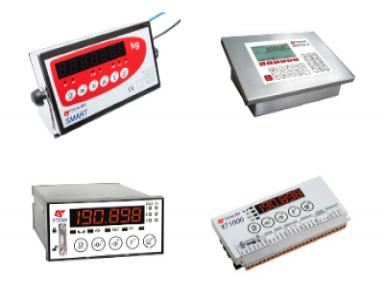 Legal-for-trade Approved
OIML R76, EN 45501 (NAWI)
Model approval from Legal Metrology Department, Government of India
ATEX approved versions
Dedicated firmware modules for applications such as truck scales/weighbridges, batching, filling, loss-in-weight and others
Analogue outputs and relay set points
Optional PROFIBUS, PROFINET, MODBUS, RS232, RS485, EtherNet/IP interfaces
DIN/Omega rail or Panel mount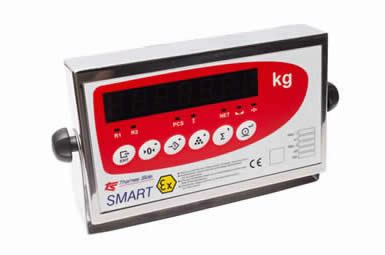 ATEX Approved
Junction boxes for all zones (aluminium)
Stainless steel indicators
With OIML R76 and EN 45501 (NAWI) approvals
Model approval from Legal Metrology Department, Government of India