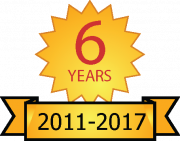 Thames Side Sensors India was incorporated on 6th July, 2011 as a subsidiary of Thames Side Sensors Ltd. UK.
What began as a small and tentative step for a leading European weighing product in an unchartered Indian territory, has turned out to be quite a success story with great brand value. With 100's of delighted customers in all parts of India, we are taking rapid strides in writing more success stories in the Indian Weighing Industry.
Technically our products are superior to most of our esteemed competitors-with implementation of GST, we hope to have a commercial edge as well.
As we complete 6 years today, we would like to thank our OEMs, System Integrators and Channel Associates for having trust in our products and abilities, for giving us an opportunity to serve them and help them provide our services. Your comments, suggestions and feedbacks have helped us to improve consistently in all arenas of our operations.
We thank you once again for the faith reposed on our products and services. With your support, we wish to explore newer horizons in the coming months and years.
We will continue to strive for perfection in our operations and sincerely look forward to delighting you with our products and services.